President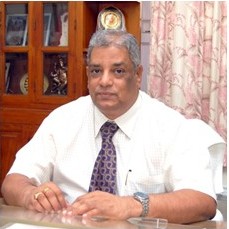 Prof.Dr.S.Jayarama Reddy
Chancellor, Sri Chandrasekharendra Saraswathi Viswa Mahavidyalaya University
Former Vice Chancellor, Sri Venkateswara University, Tirupati
Positions Held
Founder, Vice-Chancellor (in-Charge), Yogi Vemana University, Kadapa
Vice-Chancellor (in-Charge), Dravidian University, Kuppam
Vice-Chancellor (in-Charge), Sri Krishnadevaraya University, Anantapur
Member, Andhra Pradesh Pollution Control Appellate Authority
Scientific Officier, Twente University of Technology, Netherlands
Member, Board of Governors, Environmental Protection Training and Research Institute (EPTRI), Hyderabad
Member, Board of Governers, A P Residential Educational Institutions Society
Member, Executive Council of Central University of Haryana and Sri Krishnadevaraya University
President, Sri Venkateswara University Teachers Association
Council Member, AP State Council of Higher Education, Hyderabad
Visiting Professor
Universities of Tokyo, Japan
Universities of Humboldt University-Berlin, Germany
Universities of Kanazawa, Japan
Senior Professor (C4), University of Greifswald, Germany
Fellow
Alexander Von Humboldt (AvH) Foundation, Germany
Japan Society for Promotion of Science (JSPS), Japan
Andhra Pradesh Akademi of Sciences
ACTIM, France
DAAD, Germany
Electrochemical Society of India
Indian Chemical Society
Indian Science Congress Association
Chemical Research Society of India
Research
Guided 35 PhDs and 9 M.Phils
275 research papers and 8 review articles
16 general/popular articles in national and international journals, dailies such as The Hindu and the Indian Express
Authored 4 books
Research work has been widely cited
Research projects from agencies ISRO, DST, CSIR, TTD, MOEF, DNES,DAE, UGC and Alexander Von Humboldt Foundation, Germany
Areas of Research

Fundamental Electrochemistry, Electro analytical Chemistry, Environmental Analysis, Bio electro chemistry, Emitters for Field ionisation and Field Desorption Mass Spectrometry, Photo-electrochemical energy conversions, Metal Speciation, Radio analytical Chemistry, Biosensors, Modified electrodes, Electro catalysis in organic synthesis, Ion Selective Electrodes, Bioremediation of Pesticides, Atmospheric chemistry, Research leading to extension and community development programs, etc.
Honours and Awards
Council Member, Chemical Research Society of India, Bangalore.
Chemical Research Society of India Medal for significant contributors to Chemical Research
Best University Teacher Award by Andhra Pradesh State Government
Life time Achievement award for Academic Excellence, National and International Collaboration, Administrative and Organizational capability, S.V.University
Executive Committee Member, Indian society of Chemists and Biologists
Executive Council Member, Indian Council of Chemists
Founder President, Society for Environmental Chemists
Sectional President, Environmental and Analytical Chemistry, IXth Annual Conference of the Indian Council of Chemists
Visits Abroad

Visited Germany, Switzerland, Denmark, Sweden, Netherlands, Scottland, England, France, Ireland, Belgium, Finland, Spain, Canada, U.S.A, Austria, Poland, Japan, Singapore and Malaysia on Various Academic Assignments.
Academic Assignments

Chairman/Member, NAAC PEER Committee for various Universities
Chairman/Member, UGC Assessment Committee (DEEMED Universities) for various Universities
Chairman/Member, UGC Assessment Committee (9th, 10th and 11th plans)
Chairman/Member, Planning and Monitoring Board, Sri Venkateswara University
Member, Planning and Monitoring Board, Saurashtra University, Rajkot
Member, High Power Advisory Committee, Karnataka State Open University, Mysore
Member, Task Force on Reference Materials, CPCB, New Delhi
International Scientific Committee member, Biological Environmental Specimen Banking, Sweden and Austria
Advisory Committee member, Ministry of Environment and Forests, New Delhi
Environment awareness committee of the A.P Government
Committee for monitoring the development of the hill areas in the A.P State
Chairman/Member, Academic Senate, Sri Venkateswara University, Cochin University of Science and Technology, ANGRAU, Hyderabad
General Assembly Member, Indian Council for Cultural Relations
Expert Cum Course Writers Committee Member, B.R.Ambedkar Open University, Hyderabad
Curriculum Development Committee, Indira Gandhi National Open University
Chairman/Member, Board of Studies in Chemistry, S.V.University and Various other Universities
Editorial Board and Referee of various Scientific Journals
Governing Board member of various graduate and post-graduate colleges
Selection committees of various Universities